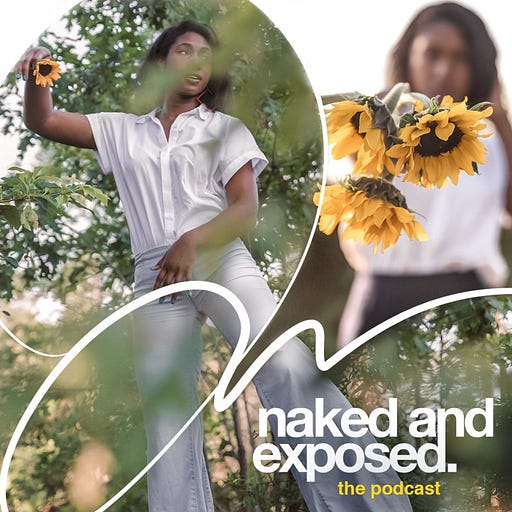 Feb 9, 2021 • 43M
Showing Up with God Through Our Voice and Leadership with Reggie Pate
We're navigating life, showing up authentically, and dialoguing candidly on the Naked and Exposed ® Podcast. Listeners walk away encouraged, convicted and held accountable. Consider me the accountability partner you didn't know you needed. #keepgoing
Sit down with Reggie Pate and me as we dialogue around showing up with God in our voice and leadership. Reggie is in a season where he is allowing his voice to be heard from the front. "My voice is its own. It's unique in its own way.  God gave me this voice for a reason."
To be heard comes with many challenges. The biggest challenge is facing our own minds. Feelings of fear and rejection often make us feel limited. We can't do it on our own. We must show up with God and do the work.
Leadership requires an active voice and honorable characteristics. Voice and honorable characteristics are attached to identity. Identity connects to a relationship with the Lord. 
Our voice has power: the power to build up and the power to tear down. "Sometimes leadership means saying nothing at all and allowing those around you to rise to the leadership occasion and lead."
We are all called to be leaders in our sphere of influence. Community and healthy relationships with other believers headed in the same direction are an antidote to those same battles. We shouldn't do life alone!  God sets the standard! In a relationship with Him, we can connect deeper with others. Connection brings breakthrough!
Your voice is needed! 
Your leadership skills and perspective is needed!
Reflection Point: How are you showing up with God in your voice and leadership skills? Where are the pain points (i.e., comparison, fear, doubt...)?  What is God's truth (the study of scripture is required)?
 
Special shout out to Kevin Wilson of NormDiff Productions! Kevin took on the Naked and Exposed: The Podcast as our audio producer in January of 2021. His editing is A1! #OnlyUpFromHere. Hire him for all your audio or visual needs! 
Reference Game (Not sponsored): We're not really strangers